Yes, we know you have all been waiting for this!
We have just made the Free Voice Calls feature available on the PC version of LINE.
You can start using it from today!
*Please update the PC version of LINE to 3.0.0 to enjoy voice calling.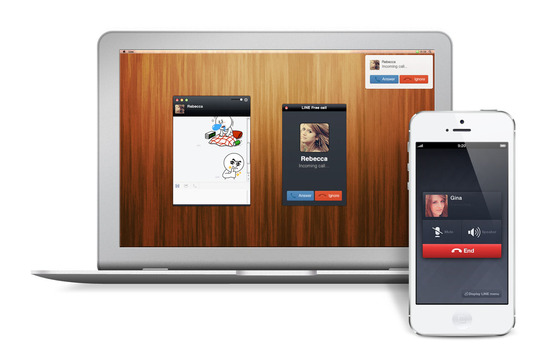 *iPhone and Android users: Please update the LINE app on your smartphones to enjoy voice calls with those using LINE on their PCs. (Latest versions are: iPhone 3.3.0/Android 3.3.4).
*BlackBerry users: If you would like to use the free voice call feature from the PC version of LINE, please update the LINE app on your BlackBerry to version 1.2.8.
PC to PC / PC to Smartphone: The choice is yours!
You can call your LINE friends from PC to PC as well as between PC and smartphones (iPhone/Android). If you receive a call while logged into the PC version of LINE, and also have your smartphone on you, you will receive incoming call notifications on both – Simply choose to answer from the PC or smartphone; whichever is more convenient for you! Call from the PC while at home, and call from your smartphone when on the move.
Everyone can use free calls from the PC version!
Even though the voice call feature is not supported on Windows Phone and BlackBerry versions of LINE, WP and BB users can still use the PC version to enjoy free voice calls.
Send your favorite stickers while calling!
Yes! To make it even easier to convey your thoughts and feelings, you can send text, photos and stickers even while on a voice call.
Ever found something hard to explain on the phone? Well now you can send photos or URLs of whatever you may be talking about! Or if your friend doesn't have a microphone on their PC, they can still communicate with you while on the call by typing messages.
▼How to make a call from the PC version of LINE
To make a call:
1. Login to the PC version of LINE
2. Simply select the person you wish to call from the Chats or Friends list
3. Click the Free Call button
To receive a call:
1. Login to the PC version of LINE
2. When there is an incoming call, you will be shown a calling screen
3. If you want to take the call, click Answer
We hope this new feature comes in handy to connect you to your loved ones, wherever they may be!
Remember, you can use the free call function from the PC version even if you use LINE on BlackBerry/Windows Phones – So try making that call!
_______________
If you require any assistance regarding the PC version of LINE, please see our
Help page
.