LINE's global registered users hit the 400 million mark on April 1st, 2014*.
We'd like to thank all of our users for helping us achieve this! As a token of our appreciation, some family apps will be holding events to commemorate this very special occasion. Read on to find out more.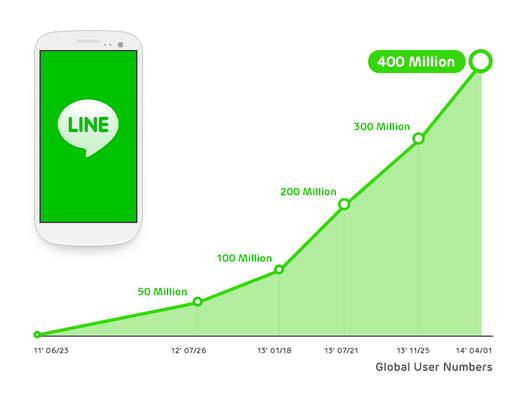 LINE rose from humble roots, supporting only English and Japanese at its launch, and has since then grown to become a global service offering 17 languages. It has grown to be widely popular in Asia and the Middle East, and now also has over 10 million users in countries like the US and Mexico.
We have released many localized stickers customized for the cultures of each country.
LINE is always listening to our users and thinking up new ways of improving the service to always provide you with the best.
We hope that LINE can become a place of fun and comfort for each and every one of our 400 million users.
LINE PLAY 400 Million Users Special Event
LINE's official avatar service, LINE PLAY, is all set to party! Details of the event can be found in the app.
LINE PLAY
Period: Tuesday, April 2 to 11 am on Friday, April 4 (GMT+9)
1. A Thank You Gift From James
Simply log in to LINE PLAY during the event period to get a gift from James.
2. LINE Character Gacha Sale
Gacha featuring the beloved LINE characters, including Brown, Cony, and Moon, are going on sale for 40% off.
3. Quest Bonuses
Visit James's and Cony's rooms and get 40 extra Gems for each Quest done there.
4. Get Rare Baits in Catch of the Day
Open Catch of the Day and get 4 Treat Platters.
*The number of registered users is the aggregate total for the iPhone, Android, Windows Phone, BlackBerry, Nokia Asha, and feature phone versions of LINE.