As of June 23, 2014, three years have officially passed since the birth of LINE. We reached another milestone two days ago on June 21, as the total number of downloads for LINE and LINE family apps topped the 1 billion mark!
We would like to express our sincerest gratitude to all our users who have helped us grow our service into what it is today since LINE first came into this world in Japan on June 23, 2011. Thank you all so much!
We would also like to take this opportunity to share with you the highlights and successes we have experienced along the way. First, we will take a look at how the total number of worldwide downloads for LINE and family apps reached 1 billion.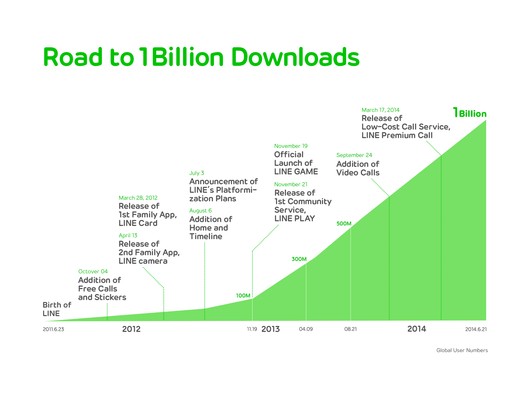 When LINE first started in 2011, it was a simple messenger app offering only a chat feature. Free calling and stickers followed soon after, and the features for which LINE is famous for today were released to the public. Since 2012, a series of LINE GAME titles, LINE PLAY, and other apps integrated with LINE known as "family apps" started to take the stage.
There are currently 63 family apps in all.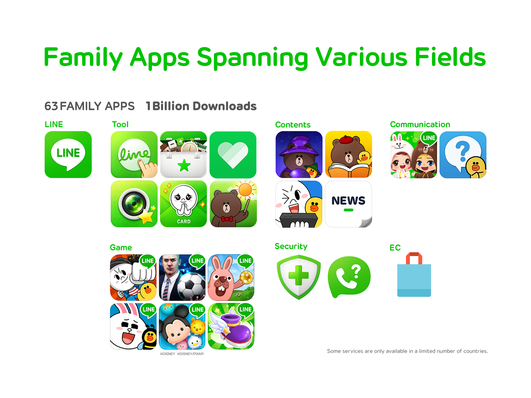 LINE family apps offer everything from popular games to fun and easy to use apps featuring tools for everyday life. Apart from the LINE app itself, the series also features the avatar-based communication app LINE PLAY as well as the security software LINE Antivirus. Other family apps cover a wide genre of service sectors - LINE Kids Video offers a huge library of kids' shows for parents to watch with their children while LINE Mall makes buying and selling items easy for users.
You may be seeing some of these family apps for the first time, but you can always tap More > LINE Apps inside the LINE app for a list of what the series has to offer.
The family app story doesn't stop there. Next, we would like to share a few figures that show just how popular these apps are across the globe.
The most used family app worldwide is LINE camera. The robust set of features offered by the app allows users to edit and modify photos with ease, capturing the hearts of photographers the world over.
LINE GAME dominates the top five in the category ranking how many days it took each app to reach ten million downloads. In addition to games featuring the LINE characters, other popular apps include LINE Cookie Run, a smash hit in Thailand, and LINE: Disney TsumTsum, which is only available in Japan.
LINE will continue to improve its services and take on new challenges in order to offer our users a communication experience that makes their lives richer and more enjoyable than ever. Please keep supporting LINE and LINE family apps!