Thank you very much for your continued use of LINE.
As part of LINE's security reinforcements, we've introduced notifications on your smartphone that show up as LINE chat messages when you log into the PC version of LINE or the LINE Store. This feature allows you to quickly see when someone you don't know is trying to use your LINE account to log in on a PC, etc.
When do you receive notifications?
・When someone is confirmed to have logged in or failed to log in using the PC version of LINE.
・When someone is confirmed to have logged in or failed to log in through the LINE Store.
When either of the above cases has occurred, you will receive a chat message that looks like the following from an account named "
LINE
" on your smartphone. As this "
LINE
" account is a special account operated by LINE in other to strengthen the app's security, you will receive the notification automatically even if you are not friends with the account as soon as either of the above cases is confirmed.
-A notification will be received every time someone logs in even if automatic login has been set up.
-This "LINE" account will not show up in your friends list.
-This is an important account for sending login notifications, and so you cannot block it.
What to do if you receive a notification for an action you didn't perform
If you receive the above notification even when you haven't logged in, this means that someone may have either logged in or tried to log in to your account through a PC, etc. If this happens, it's best to immediately start up your LINE app and change your password.
In addition, if you select "Logout" by going to Settings > Accounts > Devices, you can force certain devices to log out from your account. Please also be aware that the only account officially operated by LINE to give login notifications will be the "LINE" account referred to in this blog. Please beware of accounts that attempt to impersonate the official "LINE" account.
In order to tell whether the account is the true official LINE account, please check to see if both the "Recommend" and "Home" buttons are displayed on the profile screen of the account. If they are not, the account is fake, so please either block it or delete it.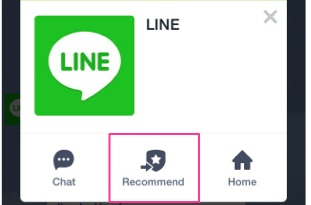 At LINE, we will continue to work hard to strengthen the security of the LINE app so that all our users can use all the features they enjoy with peace of mind.