Today marks LINE's fourth anniversary. We could not have reached this momentous day without the constant support of our loyal users across the globe since we started service in June 2011.
We, the staff at LINE, would like to thank every one of you for your kind support over the last four years!
As of a token of our appreciation, we've prepared a special limited edition wallpaper to celebrate this event which you can use on your chat screen!
LINE's official LINE account will be distributing the wallpaper worldwide.
Go to LINE > Other > Official Accounts and add LINE's Official Account.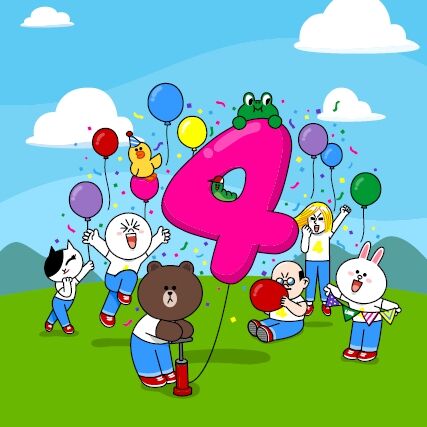 *sample

Worldwide Sticker and Emoji Usage Visualized

---
We've also created an infographic that illustrates how LINE users have used our ever-transforming stickers and emoji over the last four years.
Did you know that of the top 100 stickers used, 48% of them were used to express joy or laughter? It just goes to show you how much fun chatting with friends and family is. It makes us glad that our service's users are having so many happy conversations!

Did any of your favorite stickers or emoji make the top 100? We're looking forward to continuing to provide even more stickers and emoji to further enhance your conversations!
As LINE celebrates four great years of service and enters its fifth, we will strive to improve our services to fulfill our responsibility to our many users and further enrich their lives. We hope you will continue using LINE for many years to come.
Thanks for four great years!