With today's release of
LINE 6.3.0
for Android, users can now add #tags to their Timeline posts and mention their friends with @.
*iPhone version has been released on 1st June 2016.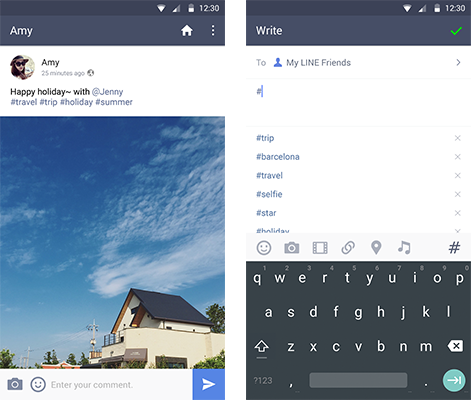 New #tag and @ mention features!
LINE's Timeline lets you share your status and daily thoughts with your friends.
With the most recent update, you'll have even more ways to spread the fun using hashtags and mentioning friends with @.
Hashtags
(Hashtag searches on the Timeline are not yet supported at this time. If you'd like to see a list of posts that contain a certain hashtag, tap any post on your Timeline that contains that tag.)
From your favorite celebrities' updates to the latest trending news stories, see what everyone on LINE is talking about at a glance with hashtags!
Get things rolling this summer with event hashtags like #vacationplans and #fireworks!
In order to keep this feature safe and accessible for everyone, only friends can like or comment on each other's Timeline posts visible from the hashtag list. Additionally, users cannot add each other as friends via the hashtag list alone.
Mentioning friends with @
Use @ in front of a LINE friend's username anywhere in your post's text to tag their name and mention them in your post.
Along with these new features, we've made it easier to view multiple posted photos and videos at once.
With these features and more, we're sure you'll find lots of great new ways to use your Timeline!
We'll keep doing everything we can to provide you with the most convenient and secure LINE possible. We especially love hearing suggestions from you!