With LINE 7.1.0, you can now mention specific friends while in group chats to make sure they get your message. Plus, we've added more cool new features, including support for 360-degree photos!
For iOS users, we've also made some nifty additions you'll be seeing for the first time, such as being able to send photos and videos directly from the "+" menu in your chats.

The iPhone version of LINE 7.1.0 was released on February 22, 2017.
(You will be taken to the relevant app store.)


Mentioning friends in group chats
Now, there's an easy way to get a friend's attention, even during busy chats with lots of people – send them a specific mention so they get a special notification about your message. (Available only in group chats and chats with multiple friends.)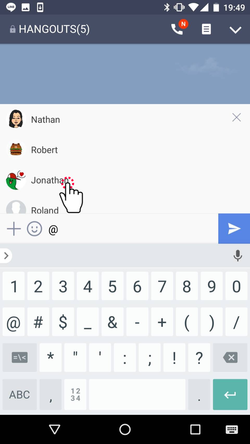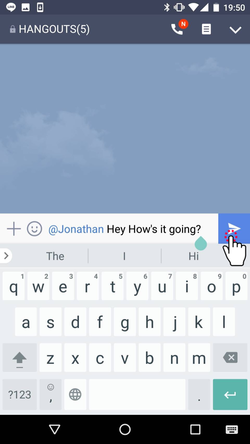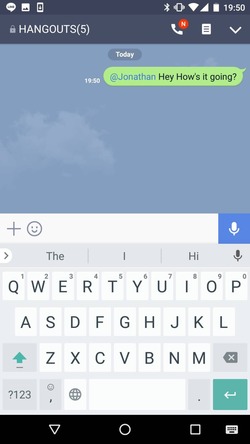 To get your friend's attention, simply type "@" in your message and choose the person you want to mention.
That person will get a notification they've been mentioned (if they turned notifications on) and their name will stand out in your message so it is easier for them to find.
With the mention function, you no longer need to worry about your messages getting lost in the crowd.
Viewing 360-degree photos
360-degree photos are fast becoming one of the most popular tools for sharing memories in a way that's really immersive. And now you can share them in your chats.
Your 360-degree photos are marked with a special icon so you know they're ready to go before you send them out.
Once you open up a 360-degree photo, you can explore it and move around in all directions for a truly panoramic and immersive view.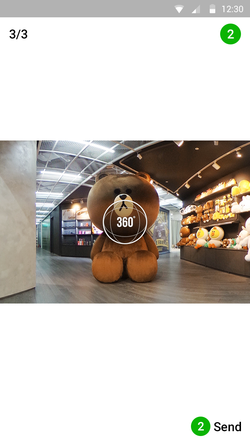 Sending photos and videos from the "+" menu (iOS only)
For iOS users, now when you open the "+" menu in a chat, you also have access to your photos and videos. No need for any extra screens – send your latest photos and videos to a chat right from the "+" menu.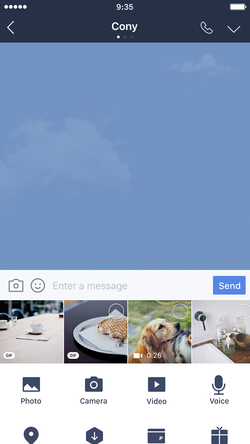 Just swipe through the gallery and pick exactly what you want to send. It's that easy.
What's changed in 7.1.0?
Before: After opening the "+" menu, you had to tap "Select photos" or "Select video" to send photos and videos.
Now: You can send photos and videos right from the "+" menu.
Other updates
1. The quality of videos sent in chats has been improved.
2. You can now send files saved on your device.
Share PDFs, PowerPoints, and other files with friends, right in your chats.
3. Enjoy auto-login to LINE services from Safari (iOS only)
If you've already installed LINE on your device, now when you try to visit LINE STORE or other LINE services straight from Safari, you will no longer need to enter your email and password to log in.
4. Improved LINE account deletion process (iOS only)
We want to make sure you know exactly what you'll lose when you delete your LINE account, such as your stickers and Coins, so we've added extra warnings to the account deletion process.
Thanks for checking out the latest features on the LINE messaging app. We'll keep doing everything we can to provide you with the most convenient and secure LINE possible. We especially love hearing from you, with your suggestions and ideas.
(Note: This update is currently only available for Android. The iOS update will be released shortly).