Attention Windows Phone users!
Exciting News!
We've released the Windows Phone version of LINE! Woohoo!
You can download it from
here
.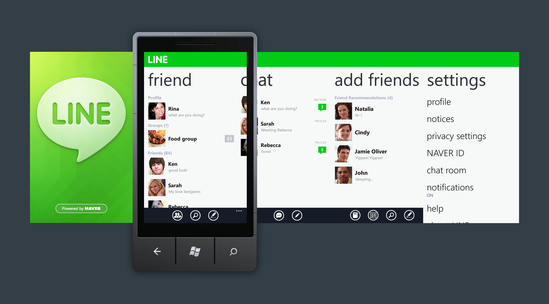 It's great to use this version. – LINE has been specially developed to suit the unique user interface of Windows Phones (Metro UI).
The menus are simple, easy and intuitive: simply slide your finger across the screen and let the fun begin!
It's supported in English, Chinese (traditional/simplified), Japanese, and Korean. At the moment, only the chat-messaging feature is available but we are readying the voice calls feature.
With the release of this Windows Phone version, LINE is now available on iPhone, Android, and BlackBerry! You can also use your LINE account from the PC version for extra convenience!
We're not going to stop here though! We will continue to increase the compatibility of LINE with all sorts of handsets and devices so that you can always communicate with your friends and family, no matter which device they are using!