Don't get too addicted! You have been warned!
We've just released "LINE Birzzle" – this is our third installment of official LINE related apps in addition to "LINE camera" and "LINE Card".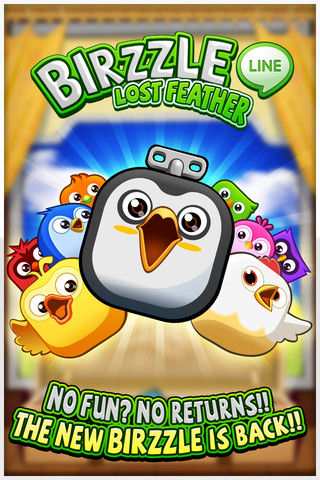 Simple yet highly addictive, this popular action-puzzle game has been specially developed for LINE. All you have to do is get 3 or more of the same colored birds in a row!
How to play!
1. Select your mode.              
2. Tap & drag the birds to make the rows disappear  
3. Progress through the levels
If you enjoy the free version, why not get the paid version for more gaming modes!
■ Free Version - LINE Birzzle
・Game Modes
Crash Mode: A basic mode where you have to make a certain number of blocks disappear
Endless Mode: How good are you? This mode let's you play until it's game over
■ Paid Version - LINE Birzzle Plus
・Game Contents
Crash Mode: same as above
Endless Mode: same as above
Ghost Mode: Aim to set a high score within the time limit
Also includes 5000 coins: Use them within the LINE Birzzle game
Unlimited Feathers: Use this for the non-stop action in endless mode
Compare high scores with friends! Have fun!!