Another game to be released from the LINE gaming app this time includes "LINE cartoon wars" – a classic defense game which has been hugely popular, with the original Cartoon Wars game receiving over 100 million downloads worldwide! LINE users can also receive special stickers absolutely free when downloading this special LINE version of the game.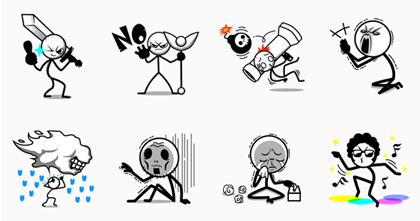 The Black and White cartoon tribe: these stick-men have stood up for freedom from being ruled by the color tribes. "LINE cartoon wars" puts you in the center of the action and lets you become the hero! Protect your castle while attacking the enemies'! This is a great tower defense game which will definitely keep you occupied!
How to Play:
1. Gather soldiers with a range of skills and attack the enemies' castle
2. Fire arrows from the top of your caste and prevent your enemies from advancing.
3. Tilt your smatphone to scroll though the screen.
As you advance through the stages your enemies will get tougher to beat. Make sure your castle doesn't get attacked by upgrading your allies and making them the strongest war machines!
Never played a defense game? "LINE cartoon wars" is the perfect game for both beginners and experts alike!
Give it a go! You only have a castle to lose! ;)
https://play.google.com/store/apps/details?id=jp.naver.SJLGCWARS