Popular game "HomeRun Battle" has been awarded a number of game awards for being quite simply, a great game!
Now the simplified version is here on LINE – "LINE HomeRun Battle" and so let the fun begin!
How to Play:
Simple! Timing is the key. Hit the ball thrown by the pitcher by tapping the screen in time with the ball and get your home-runs! The more home-runs you get and the more you get in a row, the higher your score will be!
Keep getting home-runs to enter BURST Mode! This is your chance to really maximize your score!
Use your strength, striking force and dynamic vision to keep getting those home-runs.
So who is going to be the Home-Run King?! Battle your LINE friends and find out now!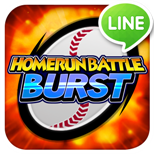 Download LINE HomeRun Battle Burst (free) here: