We've released LINE version 3.7.0! Besides improvements to the basic messaging and call functions, we have also added a new Themes function so you can change the look and feel of your LINE interface!
Themes to give the app a brand new look
Introducing Themes – a brand new function that enables you to change the design of your friends list, chat rooms and menu buttons completely! To kick-start this new function, we are offering a lovely pink theme featuring our beloved character, Cony! More new themes will be coming soon, featuring our other popular characters and much more!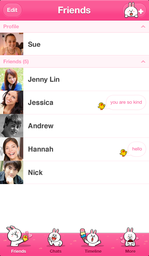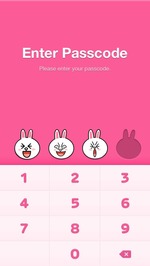 To change your Theme:
(1) Go to Settings > Themes in the LINE app
(2) Select a Theme from the list and tap Download
(3) Once the download completes, tap Apply to use it!
View webpages within the LINE app (only available on the iPhone version)
When you tap on links in Chats or on the Timeline, the webpage will be displayed within the LINE app, rather than opening an external browser (e.g. Safari).
You can also share the page to other Chats or post it to your Home by tapping the menu button at the bottom right of the webpage,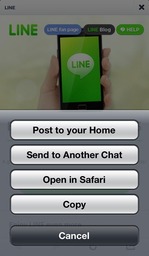 A new button to report strangers who invite you to multi-person chats
If you receive an invitation to a multi-person chat from a stranger that you have not added as a friend, you will find a new Report button at the top of the chat room. This makes it easy for you to report or block strangers who add you to chats without your permission.
(*This function only applies for multiple person chats, and not Groups)
We also made the following changes and additions.
- Added a function to automatically post to your Home when you change your profile photo.
(To disable this, go to More > Settings > Profile and switch off Share Profile Photo)
- Added a new Photos function, accessible by tapping the V icon at the top of each chat room, where you can view all photos sent and received in that chat room
- Made your QR code easier to find: You can see it under More > Settings > Profile
- Enabled the display of a grey symbol next to Chats that contain unsent messages on the Chats page
The app is now also available in German, Italian, and European Portuguese. Now you can enjoy cross-border communication with more friends in Europe!
We will continue to update our services, focusing especially on the stability of our messaging and call functions in order to make LINE more convenient, fun, and user-friendly for you! Thank you for reading, and have fun with the new functions!