We are proud to present LINE Neko Copter, a jumping action game brought to you by Square Enix!
It's a brand new, super cute action game in which you control a cat ski jumper and help it jump as far as possible.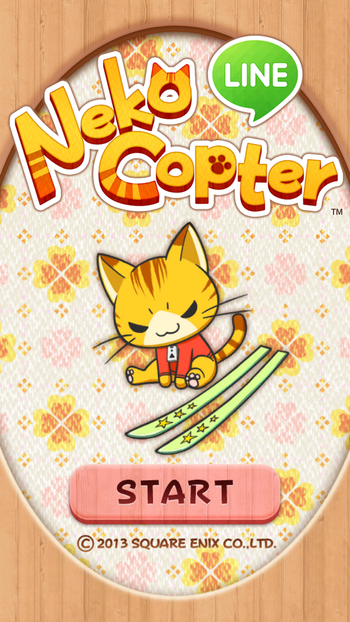 Here's a tip: to go beyond the limits, you need to take off at the perfect timing, and try your best to maintain altitude!
Time your jump as the cat character approaches the top the end of the jump ramp, and tap the button at the bottom of the screen to take off. Keep on tapping the button! That will make the cat's tail spin like a helicopter's blades, enabling it to stay in the air.
Tilt your phone or tap the left and right buttons to avoid birds and buildings in the way!
To jump further, use the items that you can pick up in the air. Find Cyclones, Wind Tunnels, Paw Balloons, and more useful items!
Catch the Gift Balloons, and give them to the kittens!
The more gifts you give them, the happier they will be, and if you make them happy enough, they will give you Costumes, Accessories or Skis in return! Customize your cat's look with these items!
Get rewards for completing Trials! Rewards include Cat Food (one Cat Food is required for each play), Medals (exchangeable for items that can be used in the game), and Costume items!
Login to the game using your LINE account to compete with your friends in the ranking and send and receive Cat Food. Also, if your friends are also playing, you will see Friend Balloons in the game. Catch them to restore your cat's paw power so it can jump even farther!