Katrina Kaif goes on 'LINE' as first ever brand ambassador for a global messaging app in India
We announced that the number of users in India has reached an impressive 10 million. We are aiming to become the No. 1 smartphone communication app in India, and are shoring up our plans for further marketing development.
Anticipating the continuing growth of the smartphone market in India, popular Bollywood Actress Katrina Kaif has been brought in as a brand ambassador, and a TV commercial campaign will be launched on October 11, coinciding with the Diwali festival. In a global first for the company, we will be releasing free India-exclusive stickers featuring photographs of Katrina Kaif.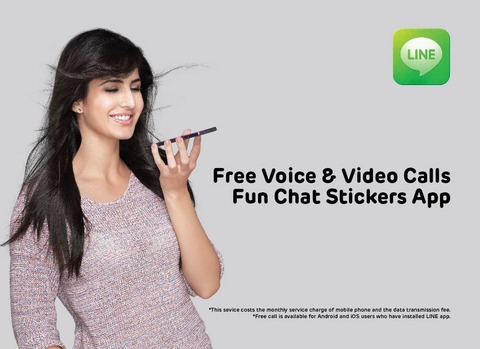 'India has overtaken Japan to become the country with the third largest number of smartphone users. ** It is only natural to anticipate further growth of the smartphone market in India, and we believe that it will become a vital territory as LINE expands into the global marketplace', said our CEO, Akira Morikawa . 'Since launching LINE in July of 2013, the number of users in India has skyrocketed to an astounding 10 million, far exceeding our expectations. We haven't experienced such rapid growth in any other countries to date', he added.
Talking about the association with Katrina Kaif, Morikawa said, 'With the help of our marketing partnership with Katrina Kaif, along with other partnerships with entities in India, we are confident that we can easily surpass 20 million users by the end of the year.'
'This Diwali is going to be special because LINE has added a host of exciting offerings for us. I now have an account especially created to interact with my fans. The stickers are adorable and I can't wait to get my hands on the new Katrina sticker' said Katrina Kaif who has been roped in as LINE's India brand ambassador. 'The new TV commercial is all about connecting with all your loved ones this festive season. It was fun shooting this commercial and the sets were buzzing with LINE messages day-in day-out. My experience while using LINE has been incredible and it has completely changed the way I connect with my friends' she added.
In addition to its partnership with Katrina,we have also partnered with:
Sony India, who will pre-install LINE on their flagship smartphone, the Xperia Z1 and Xperia C, as well as launch a cooperative marketing campaign
Sony Music Entertainment is opening official accounts with LINE which will cater to fans of major genres of music including Bollywood, Indipop, Tamil, Telugu, Punjabi and International music
In order to connect with a large audience and provide localized content, we are also partnering with major Bollywood films, such as 'Krrish 3' and 'DHOOM:3', giving exclusive content to customers
The big-ticket strategic partnerships are aimed to architecture a well-entrenched consumer outreach strategy and mark a prominent existence in the burgeoning instant messaging space.
We have always differentiated ourselves from existing applications by making use of highly innovative and bespoke services. With the recent roll-out of free video calls and video sharing capabilities, We are set to bring high-quality communication to Indian users. From the day of official launch in the market, voice calls have witnessed 3,200 % growth and 1,800% usage increase has been attributed to stickers. Additionally, messages have touched an exciting 700% increase since June 2013.
We are continually striving to bring improved services to our customers, and along with strengthening our ties in India, hopes to become the country's No. 1 communication app provider.